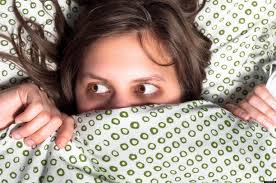 Twenty five years ago, when I was a fledgling therapist finding my way in a Community Mental Health clinic, I was sitting in a meeting when another young therapist, named Ed, mentioned that he knew how to heal bad dreams and keep them from repeating.
I remember almost nothing from all those boring meetings I attended but I still remember his instructions as though it were yesterday. According to Ed, the technique is a Native American practice. I don't know which Native American taught it to him or what tribe she was from but I am still grateful to her and to Ed for teaching it to me.
In the last quarter century since he showed it to me, I have shared this instruction with hundreds of clients, with my family and have used it myself frequently. As far as I know, it has never failed. It works as well for young children as it does for adults, for the mentally retarded or the genius. The only problem is that you have to remember to do it as soon as you wake up.
Instructions for resolving bad dreams
Give the subject this instruction: "When we have bad dreams we always wake up before the dream is complete. If we are falling off a cliff we wake before hitting the bottom. If we are running from bears we wake up before we are caught. If we are at school in our underwear we still wake up before the story is complete. The reason for this is because the dream is like a question from our unconscious mind. The unconscious is asking, 'This is what I think you want. How do you want this to end?'"
Now assign the homework: "The next time you awaken from a bad dream, before you are fully awake, think about how you would like the dream to end, and then end it. If you are falling from a cliff, spread wings and fly away. If you are sitting in class in your underwear, notice that everyone else is completely naked. Dreams can be magical so come up with a happy ending and be as magical as you want."
That is all there is to it. Just putting a positive ending on the dream right when you wake up resolves the dream and stops it from repeating.
Explanation of why this works

People who are acquainted with the Felt Sense of Ask and Receive already know that our unconscious is communicating with us all the time. We just don't understand what it is saying. We want direct instruction from our unconscious but the unconscious expresses itself in metaphor and through images, sounds and feelings. Without knowing the meaning of our headache we take a pill. Without knowing the meaning of our discomfort we distract ourselves.
Nowhere is our unconscious more active than in our dreams. In our dreams the metaphoric nature of the unconscious is unimpeded but it is still trying to communicate with us. Our poor unconscious never gives up talking to us even though we so blithely ignore it.
We don't have to know the meaning of the communication to have a useful conversation, but we do need to know that we are conversing. By ending the dream we are engaging with the metaphor presented by the unconscious and shifting it in a desired direction. Our unconscious is just giving us what it thinks we want when it has us falling off a cliff, because that is what it thinks we are asking for with our incessant worrying and negative thought. By steering things back in a positive direction it communicates, "No, let's not do that. Let's do this…" In 25 years I have never found it to fail.
The added benefit of all this may also be that our unconscious learns that we don't really want bad things to happen but instead want to be safe or happy or free or satisfied, so it can give us that. This has been my experience. Now I hope you will all try it and let me know what you find.
We hope that you will try out this technique and leave us feedback in the comment section below as a way to help others.
As long as you are here, we hope you will feel free to browse around the site and let us know what you like and what you would like more of.
With Love and Gratitude,
Tom, Sandi and Pam